This post was co-authored by Tomás Carbonell, EDF Attorney, and Brian Korpics, EDF Legal Fellow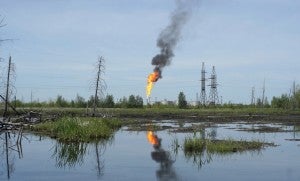 Last Thursday, the Department of the Interior's Bureau of Land Management (BLM) hosted a public forum in Washington, D.C. on venting and flaring of natural gas from oil and gas operations occurring on federal lands. This was the third in a series in which BLM received public comments on various options aimed at addressing the extensive and unnecessary loss of gas from onshore federal oil and gas leases. EDF is encouraged to see BLM taking on this vital issue, and we delivered testimony urging BLM to take strong and timely action to uphold its responsibility to minimize waste of our nation's natural resources and ensure oil and gas development minimizes impacts to our climate and public health.
Reducing waste of natural gas on federal lands is a core element of the President's strategy to reduce methane emissions, and for good reason. BLM is tasked with managing 700 million acres of federal lands – making it the largest single land management agency in the federal government – and it has broad responsibilities for the significant oil and gas resources located on those lands. Almost 40 million acres of BLM lands have already been leased for oil and gas production, accounting for approximately 14 percent of all onshore natural gas production and 8.5 percent of all onshore oil production in the United States.
Despite the scale of oil and gas production on federal lands, BLM's policies covering venting, flaring, and other losses of natural gas are over three decades old. These obsolete regulations allow producers to waste significant amounts of natural gas that could be cost-effectively captured using today's technology. The Government Accountability Office (GAO) found in 2010 that between 4.2 and 5 percent of all natural gas produced onshore on federal lands was vented, flared, or lost in fugitive emissions — enough gas to heat about 1.7 million homes each year.  A more recent study by the Western Values Project found that vented and flared methane could cost taxpayers nearly $800 million in coming years.