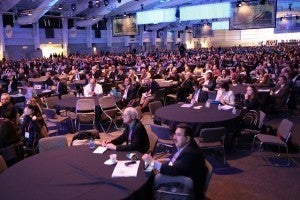 Each month, the Energy Exchange rounds up a list of top clean energy conferences around the country. Our list includes conferences at which experts from the EDF Clean Energy Program will be speaking, plus additional events that we think our readers may benefit from marking on their calendars.
Top clean energy conferences featuring EDF experts in April:
April 4:  Energy Power Dialog (Austin, TX)
Speaker: John Hall, Texas State Director, Clean Energy
Participate in a national dialog on energy being hosted at universities across the United States. The Power Dialog will engage approximately 10,000 students in face-to-face conversation with state-level regulators and policy experts in all 50 states about the federal Clean Power Plan (CPP), which requires 32 percent cuts in global warming pollution by 2030. At the University of Texas at Austin, EDF's John Hall will co-lead the dialog that helps students understand the positions for and against the Clean Power Plan: Why does Texas oppose the CPP? Why should Texas support it? This is not a lobbying or advocacy event, but rather a way to engage students in an important learning opportunity.