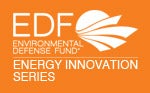 EDF's Energy Innovation Series highlights innovations across a broad range of energy categories, including smart grid and renewable energy technologies, energy efficiency financing and progressive utilities, to name a few. This Series helps illustrate that cost-effective, clean energy solutions are available now and imperative to lowering our dependence on fossil fuels.
Find more information on this featured innovation here. 
America's electricity grid was one of the greatest engineering feats of the 20th century. But it is showing its age.
The Wall Street Journal reported recently that if just nine of the 55,000 electric-transmission substations were knocked out, the entire country could plunge into a months-long blackout. Power outages caused by severe weather events already cost the U.S. between $25 to $70 billion a year. And Americans are using more energy than ever – 2.3 quadrillion thermal units more in 2013 than in 2012, which is greater than the total energy consumed by Maine, Montana, South Dakota, New Hampshire, Hawaii, Delaware, and Rhode Island combined.
Fortunately, we know how to protect ourselves from this vulnerability: move away from a highly-centralized energy generation and transmission system to one that looks more like the Internet, with decentralized energy production and smart technologies that allow us to use power most efficiently.
That's exactly what Green Charge Networks (GCN) is doing. Over the past few years, this Silicon Valley smart grid company has been building an intelligent energy storage system called GreenStation™ that reduces stress on the electric grid, reduces greenhouse gas pollution, and, the company says, offers customers a five-year return on investment. Read More »