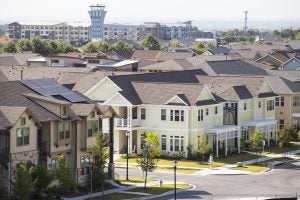 Dustin McCartney, senior data analyst at Pecan Street, co-authored this post.
Have you ever thought about how much water your dryer needs to dry your clothes? (And no, I don't mean your washing machine.)
Every appliance in your home has a water intensity, or the amount of water needed to make and send the electricity that powers it. On the flip side, all water – like in your faucet, toilet, and irrigation system – has an energy intensity, the amount of electricity needed to treat, distribute, or heat the water. Chances are, you probably haven't given much consideration to the water intensity of your home energy, or the energy intensity of your water. There hasn't been any data at the household level – until now.
Environmental Defense Fund (EDF) recently teamed up with Pecan Street, Inc. to examine these combined metrics in a new study. Pecan Street, a research group running the most extensive energy-tracking in U.S. history, analyzed the energy and water costs of a group of Austin homes and their appliances.
By gathering granular data on how much energy and water households use, as well as their associated energy and water intensities, this study reinforces the need for smart technology to help us better understand and manage energy and water. Moreover, in order to safeguard water supplies, the analysis demonstrates the importance of powering our lives with low-water clean energy resources. Read More »