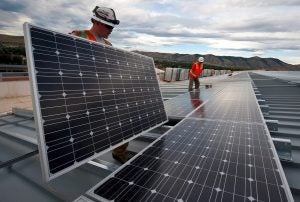 That whoosh you just heard was China passing the United States in the race for the 21st century energy economy. Or is it the 21st century jobs race? Or the "world's only superpower" race? Unfortunately, it might be all three.
Last week, China announced it will invest $361 billion over the next three years in renewable power generation. Compared to the $90 billion dedicated to clean energy in the 2009 stimulus package that was spread over several years, it dwarfs America's commitment to an industry that nearly every country on Earth agrees will dominate the global energy landscape.
Surely, China's air quality is playing a role in its government's planning. The country has a severe air pollution problem – its hazy city skies are as famous as its Great Wall. Still, it would seem strangely out-of-character for China – given its history on environmental issues – to spend three times as much money as the United States on a tree-hugger pipedream.