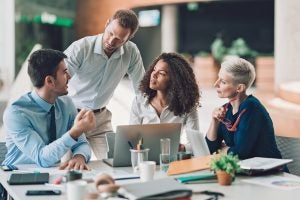 Electric trucks are one of the most consequential climate investments companies can make today. These vehicles are increasingly available, able to do the job required of them, and fleets are embracing them.
As fleets make the transition to a zero-emission future — especially first movers — they are required to develop solutions to numerous challenges that electrification currently presents. This includes (but is not limited to) optimizing routes, designing charging systems that can fit within the operations of their current facilities, and engaging drivers around this new technology. It's a daunting task.
To support fleets as they address this unprecedented pace of change, EDF has partnered with the North American Council on Freight Efficiency, RMI and CALSTART and have created the Electric Fleet Readiness Group.
This group is comprised of leaders from top private fleets that are deploying or exploring zero-emission electric class 6-8 trucks within their operations, including: Dependable Highway Express, Manhattan Beer Distributors, NFI, Pitt Ohio, and Anheuser-Busch, among other fleets. Collectively the companies participating in the fleet readiness group operate over 50,000 trucks and have already deployed over 50 electric trucks with announced plans for hundreds more.