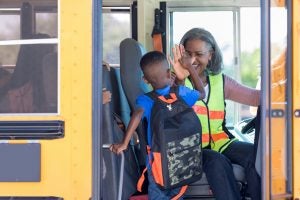 The electric vehicle movement is having a moment. And I'm not talking about the usual passenger EVs that everyone already knows about — the Teslas, the Volts, the Bolts or the Leafs.
I'm talking about the next wave of EV markets that, when they take off, will fundamentally change how people and freight are moved. Here are four new developments that prove electric trucks and buses are gaining momentum.
1. Washington commits dollars, legislation to electric buses
First, a pair of announcements from Washington could spur new research and deployment of various low or zero-emission transit vehicles. The Federal Transportation Administration awarded 38 grants totaling $85 million to transit agencies across the country to purchase or lease "low or no emission" buses. Since its inception, the FTA's Low-No program has funded more than $300 million in new buses, training or infrastructure. And a group of U.S. senators introduced the Clean School Bus Act last month, through which the U.S. Department of Energy would spend a billion dollars to help convert diesel school buses to clean electric models. A companion bill was just introduced into the House.