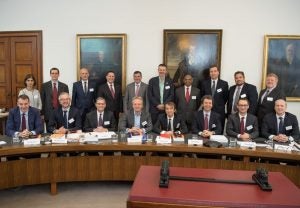 The credibility of recent industry methane commitments is under the microscope.
One year ago, many of the world's top oil and gas companies publicly committed to support methane policies and regulations to reduce emissions from the global oil and gas industry. But today, serious doubts are emerging about whether the companies will keep their promise in the face of extreme regulatory rollbacks in the largest oil and gas producing nation in the world—the United States.
Companies with significant U.S. production—like BP, Chevron, Equinor, ExxonMobil, and Shell—committed to "advocate sound policy and regulations on methane emissions," including working "constructively" with governments and others "in the development and implementation of effective methane abatement policies or regulations." EDF, which worked with industry and others to develop the principles, welcomed the companies' commitments. We noted that "done right, voluntary action is a way for leaders to raise the bar for industry's performance, but fair competition and a healthy environment are not possible unless all companies meet the same basic standards that only sensible government regulation can achieve." The five companies noted above have since joined others in the Oil and Gas Climate Initiative in committing to a voluntary methane target. But government regulations are under threat, creating the imperative for an unequivocal industry response.